Introductory Note:  Welcome to my "very occasional blog." As you may or may not know, while you might know me for my creative side, I still enjoy, and work extremely hard at a full-time career as the co-owner of a staffing company. Therefore, this forum will not be a regular one.   Instead, I will share intermittent musings, and probably more often stepouts of my new and favorite tangles rather than the type of post you are about to read. That said, enjoy my first blog post!!! — Heidi
——————————–
In October of 2017, my mother passed away. She was an accomplished Master Quilter who specialized in complex geometric designs.   She used patterns as her "palette" and created incredible tone on tone patchwork pieces. When she died, I was cleaning out her sewing room and found two Zentangle books that she had bought for paper-piecing inspiration. Unfortunately, cancer robbed her of her fine motor skills before she was able to use patterns she found.
Mom was always nagging me to find my own muse.  But as the mother of three, and a small business owner, I never had the time, studio space or perfect way to express my own artistic ability. I turned to advanced nail art as something I could do in within my current confines.  Mom wasn't impressed and said I was I was far more creative than painting "teeny tiny canvases."  I shrugged, not knowing what else to consider.
She got really sick and lost much of her independence about 3 weeks after my youngest went off to college.  She died just three months later.  When I found two Zentangle books in her studio after her death, I flipped through them, thought "Hmm this is cool," and brought them home where they sat idly on my bookshelf while I caught my breath from the 18 months of being her caregiver and settling her estate.   I had no idea that those books were a powerful message, just waiting for me – when I was ready to receive it.
One night the next August, I remembered about her books.  I ran upstairs to grab them and cracked open "One Zentangle a Day," by Beckah Krahula. With no ink pens or tiles at my disposal, I did my first tangling on a piece of copy paper and all in pencil. I was enthralled! What was this amazing artform that could be everything I needed it to be??   Stress relieving, portable, something I could create in one evening, no mess, and a heckuva lot more creative than nail art! Two days later, a package of tiles, a Micron 01, a tortillion, and a pencil arrived at my doorstep.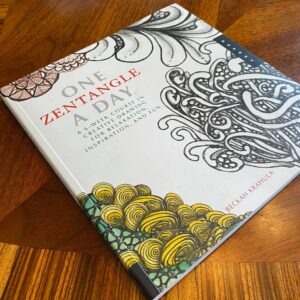 After a weekend of mad tangling, I went to the Zentangle website to see if I could find a CZT in my area, but there did not appear to be one close by that offered classes. So next I went to Facebook. As a nail artist, I often shared my work with the lovely worldwide community of nail artists on social media. I knew I would find a similar community for Zentangle.  And of course, I did.
After much research, I reached out to Chris Titus of Square One Purely Zentangle.  Her group is committed to the true spirit of the Zentangle Method, which I had already decided was the only route for me.    Chris recommended three CZTs that gave private video chat lessons.    Before I could reach out to any of them, I had a message from Joanna Quincey, CZT.
I took weekly lessons from Jo for about 6 months.  To say that Zentangle and rocked my world would be an understatement.  Kind, gentle, and incredibly knowledgeable, I immediately felt cared for and appreciated.   "If this is what the Zentangle community is about, then I am in exactly the right place," I concluded.
I think you can see I am intensely passionate for Zentangle. I wanted to learn more.   I want to learn how to share it   I first considered attending Seminar, just for me.  And then Thanksgiving rolled around, and I gave my very first lesson to my 19-year-old daughter and my two nieces. These faces say it all. It was amazing. Suddenly, I couldn't wait to teach!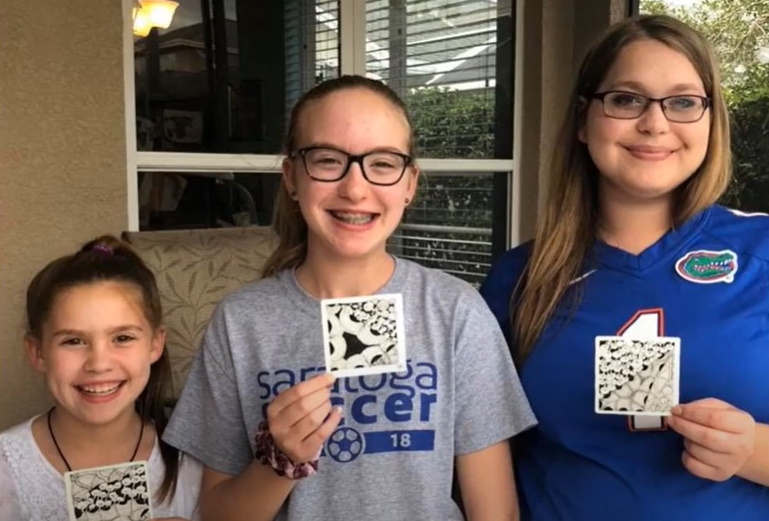 I have a two-pronged vision for how Zentangle can inform your life.  Firstly, I am absolutely committed to Rick and Maria's vision.    I share the philosophy that Zentangle is first and foremost about the joy of the pen, the calm to be found only in the moment, and the self confidence that blossoms from the act of creating.    I have learned during my own journey that the art will come as soon as you let go and let Zentangle do its magic, but that is not where to find the starting line.
As I have discussed on my About Me page, however I also believe Zentangle is a wonderful gateway to further artistic exploration. When I was a kid, I dreamed of going to Rhode Island School of Design and being a graphic artist.  My parents however told me they "didn't want me living out of a cardboard box on the side of the street," and I sadly abandoned that dream for the goal of finding a career that would provide for my family. After I finished school, my artistic skills continued to lay dormant (aside from the arts and crafts that I enjoyed with my kids) lay dormant for decades as I raised my family. I began to do nail art once the I found a bit of extra me time, but I still hadn't found anything that truly inspired me.
Then came Zentangle, and the story I told at the beginning of this post. Once I started tangling, the artist in me found not only found confidence but a furious passion to create – in black and white AND in color.
And here we are today. Yes, I am a tangler, and a passionate one at that. But I am also an artist.